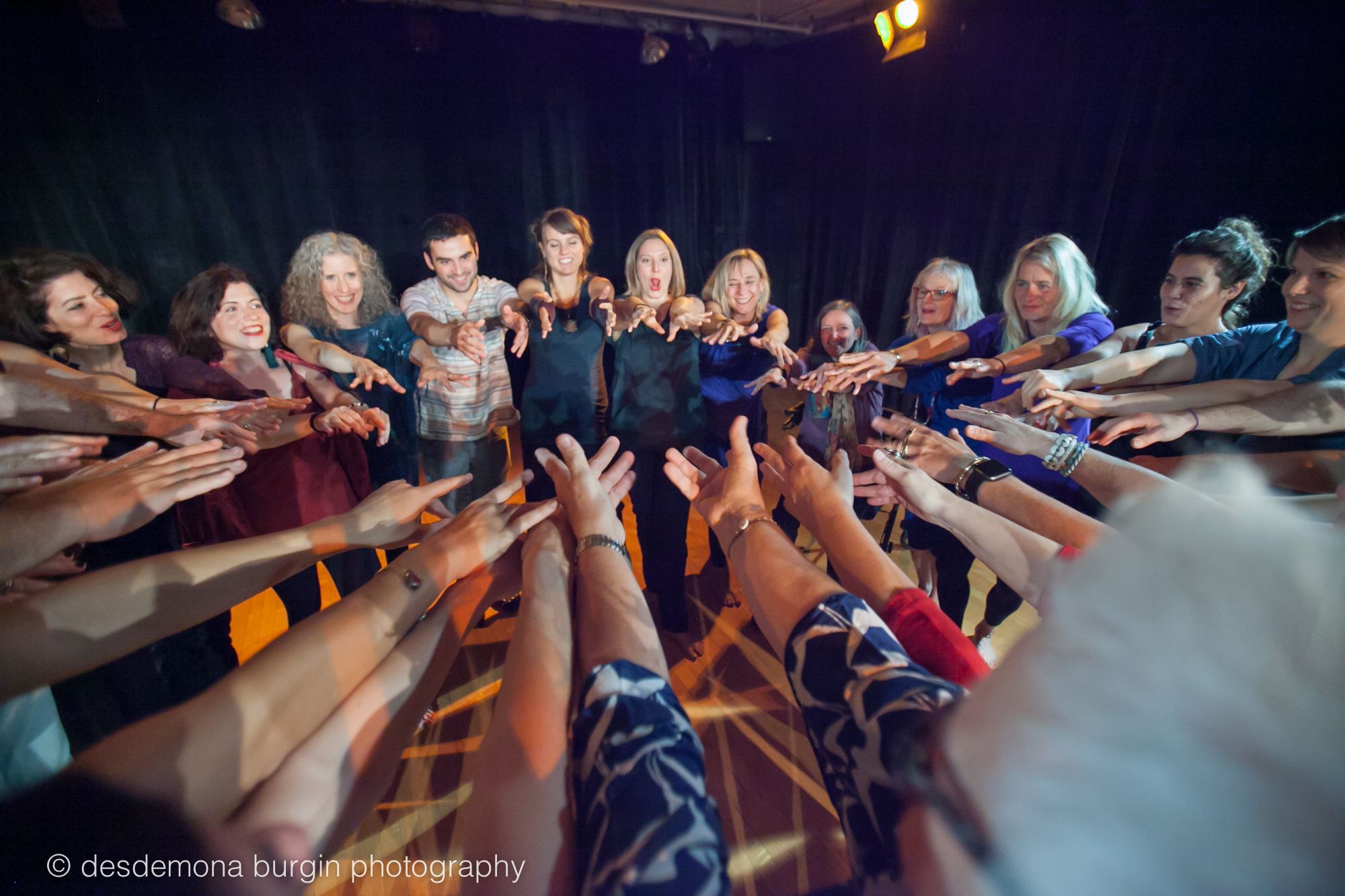 Thoughts on improvisation:
Vulnerable and yet powerful,
concentrated and constantly shifting,
searching for true and finding new expression,
blending into song and amorphous shapes,
serious and funny
surprised and safe
with open senses
courage and trust
old and new
serious and funny
thousands of pieces in a kaleidoscope,
so beautiful and already over.
Does anybody know who put it so beautifully in words?
Please let me know!
Blog: Not dark yet – Festival report NSJ 2023
Not dark yet – big and small discoveries at North Sea Jazz 23
North Sea Jazz is big
Everything is big, a lot, expensive, dizzyingly unmanageable.
3 days full program with officially 90,000 visitors in total. But I guess they let a lot more people in this year. It was mega crowded and on the weekend July 7-9 it was hot in Rotterdam, at least 30 degrees outside. Inside it was just as hot in some rooms, in others it cooled down to 15 degrees, so you had to bring a jacket to avoid catching a cold.
The spectacle takes place in the huge fair complex "Ahoy". Actually everything under one roof. Outside there are stalls with food and drink and a few smaller open-air stages.
A total of 16 stages are being used in parallel. It's loud everywhere!
Phew! Such a mega event can be quite stressful – and expensive.
We were lucky enough to snag early-bird tickets for the entire 3 days. That's also difficult and stressful, but it worked out this year!
And so I was there for the third time and come back tired and full of colorful impressions and emotions!
Not dark yet… Tom Jones???
To start a report about a jazz festival with Tom Jones is almost sacrilegious.
But sometimes the first spontaneous image that pops up is the best introduction.
Tom Jones – a legend – but what is he doing at the North Sea Jazz Festival? With the incredibly huge lineup of artists and stars, he wasn't actually on my list of musicians I really wanted to see. Especially since he played in the biggest hall of the festival – the "Nile". About 10,000 spectators fit in there. It could also have been 15,000.
The fact is that this event, like most of the big "jazz" festivals, attracts this mass of audience because there are so many pop, soul, R'n'B acts playing.
To make the story with Tom Jones short:
We fought our way into a much-coveted seat on the steep grandstand at the very back of the hall shortly before the show started. But at least here you can sit and since left and right of the stage huge screens show the show, you can also see something from here.
Tom Jones starts with a Bob Dylan song and sings charismatically and it sounds fat: Not dark yet.
I think: wow!
I didn't expect that. Brave to start a show with that.
Super voice, very much expression, great song choice and so atmospheric!
Then he reeled off his hits and when finally the hit-like "Delilah" came, we had to leave the hall in a hurry, making our way through the swaying masses.
A jazz festival day should not have to end with this catchy tune!
Aaaah! Help!!!
The agony of choice
But there are ups and downs, light and shadow, especially with this huge offer of acts.there you have to decide what you want to see.
And because often the big halls are packed and you can't get in, you have to get in line early if you want to see a concert.
But sometimes it's the accidental, unplanned discoveries that are the best!
Random discoveries
So it happened that after a really nice concert by the Brad Mehldau Trio, for which we had to secure good seats in the front 30 minutes before the concert started, we wanted to take a look at the "Amazon" during the break before the next concert, where John Mc Laughlin's Shakti project was playing.
I followed my friend Inge, who wanted to see it, a bit hesitantly. We had to climb all the way up to the balcony of the 2nd floor, because everything was occupied downstairs, to then experience an unbelievable show!
Madness! I am still totally flashed!
And at the end I had tears in my eyes and was so emotionally carried away and energized by the virtuoso interplay, as it very rarely happens. And the singer and percussionists impressed me deeply!
And a five-minute solo on a small tambourine-like instrument that was incredibly exciting and captivating. I've never experienced anything like it before!
The line-up: Padma Vibhushan Ustad Zakir Hussain – Tabla, John McLaughlin – Guitar, Shankar Mahadevan – Vocals, Ganesh Rajagopalan – Violin, Selva Ganesh – Kanjeera, Tabla
Five musicians sitting in a semi-circle on a platform on stage, celebrating beautiful, complex music to strange clapping patterns (sometimes with the palm of the hand sometimes with the back of the hand clapping on the palm of the hand), in Konnakol manner that is incomprehensible to me, as is the custom in this Indian system. Incredibly well connected and together, attentive and taking great pleasure in making music together. The syllabic language of konnakol, reminiscent of vocal percussion, is fascinating anyway when used with so much relaxation and skill.
The last piece took me so emotionally that I had tears in my eyes.
Esperanza Spalding and Co-Musicking
The wonderful Esperanza Spalding was the festival's "artist in residence" this year, performing on stage with various formations and also giving interactive workshops that you had to sign up for, but didn't cost anything extra.
After Esperanza's introductory words and some explanations about the co-musicking concept, about 40 people improvised with each other in one room. Some sang, played percussion – also instruments like drums, rhodes, saxophones were in the room and played by musicians of their band.
Thus, 4 pieces of improvised music spontaneously emerged, initiated by the opening question:
"What do you need the music to tend to today?"
"What do you need the music to tend to today?" "What do you need the music to tend to today?"
Esperanza collected the participants' answers and summarized them, then joined them in a musical flow.
Answers came in like: being without fear, freedom, being able to let go, not having to judge, having fun, going beyond boundaries, finding connection, being crazy, not thinking….
And then we played on it and danced, as if in waves, grooving and sounding, listening freely and attentively. Esperanza stood a meter behind me with her double bass. Yes!
It was a nice change of pace on this festival day to get into the action myself instead of just receiving. But the big euphoria and realization did not come to me! I have been doing improvisation in various formats and concepts for too long. Probably I am an old hand;-), but I had fun!
Who knows Esperanza's current album "Songwrights Apothecary Lab" and has dealt with the philosophy behind it, knows that she is intensively occupied with the healing power of music and has worked a lot with music therapists and healers*. I like the album very much!
But it is interesting that also in the above mentioned wishes of the participating musicians it is always about coming into music making without judgment, without thinking and without fear of doing something wrong.
This liberation from judgment and from the performance principle seems to be based on a deep and widespread longing. I know it well.
I'm sure I'll write about it in more detail soon.
Highlights and disappointments
The concerts of Esperanza Spalding were very inspiring for me.
In the duo with Fred Hersch you could experience her as a singer who could play super freely and creatively with standards. She has a clear, bright, flexible voice and certainly an absolute ear. Otherwise she would not be able to sing virtuosic lines so light-heartedly and unite with the piano again and again. Moreover, it is impressive how relaxed she is on stage sharing her stories and thoughts with the large audience. And there must have been 3000-4000 in the audience. I don't know exactly because I was sitting very far in front.
In her moderation, she also addressed – self-confidently and humorously – the fact that during the concert people got up and left and others were let in again.
This causes extreme unrest and is quite disrespectful to the artists and the other audience members, who are distracted each time. There is a constant coming and going in almost all the halls.
Curse and blessing of such a large offer of overlapping concerts on 16 stages in parallel.
We, too, sometimes left a show in the middle to be able to see the next one at all. Often you had to queue up 30 minutes in advance to get a seat.
Quite often we experienced that we couldn't get in for Van Morrison, Pat Metheney or Samara Joy, even though they were playing in the big halls.
But then there's still a lot of parallel stuff that you can see and discover instead.
So we spontaneously went to Madison McFerrin, Bobby McFerrin's daughter, instead of Samara Joy. At the third song I couldn't and didn't want to stay any longer. She sang mediocre, the R'n'B songs were not my taste and she made aggressive announcements. Maybe she was having a bad day.
And then she had a skimpy net dress on and was almost naked, which I found very strange.
But that's also a matter of taste.
It's just that I'm a bit irritated that I get so hung up on appearances and that stage outfits catch my eye so much!
Snarky Puppy were on fire and were celebrated by 10,000 people. That was fat!
We danced wildly to Kurt Elling and Superblue with Charlie Hunter. I have never experienced Kurt Elling so relaxed, funky and with fun. I usually found him live always a bit undercooled and controlled. That was something completely different here at 30 degrees in the tent. He sweated and really went wild – and so did the audience. And Charlie Hunter plays guitar and bass on one instrument at the same time. How that works, I haven't understood yet. Anyway, I was looking for the bass player on stage for quite a while, only to find out that the guitarist also plays the bass.
The Metropole Orkest played grandly the arranged "Diaspora Suite" with different soloists on vocals. Great cinema. Among others, Corinne Bailey Rae, Laura Mvula and the Pakistani singer Arooj Aftab, who was an interesting discovery.
My insight in this concert:
Stage presence can also have introverted artists. It does not depend on how much show is made to the front, but also a deep inner humble calmness and seclusion can be captivating.
The main thing is to be genuine and authentic. That's what counts!
Speaking of which, peace and quiet was again emitted by Abdullah Ibrahim, whom we could only see briefly because we were going to the workshop with Esperanza Spalding. He had so thrilled me in 2019 at my first time at NSJ that I cried snot and water – with emotion.
On the last evening, still completely inspired by the Shakti concert, we refrained from going to see Gregory Porter in the huge and packed "Nile" and rather went relaxed to our last concert of the festival, Esperanza Spalding's "Off-brand gOdds". A performance of music and dance, a mixture of arranged and choreographed parts and improvisations. Very varied and atmospheric, beautifully staged, sparse set and all actors dressed in white. Almost a bit chilly. In the air-conditioned and much too strongly cooled down hall it became really chilly.
Nevertheless, we stayed until the end, compensated by a terrific and rousing Esperanza Spalding on bass and vocals and her great band, super dancers and a large choir formed by the audience at the end.
Singing the festival came to an end for us.
After 3 days full of sometimes quite demanding music (if you have given yourself properly jazz) in the middle of a huge mass of people, quite tired, but fulfilled and inspired we went "home" with the "Fiets" across Rotterdam.
By the way, when I talk about "we" I mean 2 heart people, my friends and colleagues Inge Rambags from Rotterdam, a wonderful singer and improviser, choir director, best vocal coach ever and warm host and Corinne Schmidiger from Zurich, an equally great singer and improviser, body percussion specialist and member of several innovative a cappella projects.
Britta Rex, August 2023
Blog: North Sea Jazz 2022
I went to this great festival in Rotterdam in July for the second time after 2019. We had the tickets since 2020 and could finally redeem them. It was again an intense beautiful weekend with dear friends* and with lots of good music. There were impressive and touching moments and actually a few tears again.
Masses of people flock to this biggest jazz festival in Europe and you could almost get the impression that jazz is all the rage these days. Sure, there are also many pop acts in the line-up, but actually jazz in all facets. Tickets are in high demand and usually gone within an hour of opening for sale.
There are concerts on 15 stages daily from 3 p.m. to 1 a.m., in small and large halls, all in the huge fair complex "Ahoy Rotterdam".
This weekend I saw artists like Lizz Wright, Dianne Reeves, Lucia Cadotsch (insider tip), Hiromi with string quartet, Lionel Loueke, Eryka Badu, Gretchen Parlato, Jacob Collier, Gregory Porter, Charles Lloyd, John McLaughlin, Alicia Keys, Cecile McLorin-Salvant, just to name a few. Partly from very close!
But goosebumps and tears, fortunately, come unexpectedly and are an indicator that some chord deep within us is being made to sound.
That's what happened with Hiromi The Piano Quintet. Actually we wanted to see the Metropole Orkest with Lisa Fischer and Ledisi, but we couldn't get in because the hall was already full. Quite disappointed we ended up at Hiromi and what a luck!
This joy of playing, this communication, this virtuosity, joy of experimentation and passion of the pianist Hiromi and the string quartet were unbelievable. After a fast-paced up-tempo piece with insane cascades of sound and fast runs that grooved and was loud and wild and captivating that left my mouth open, the five came to a brilliant conclusion that was so on point that a thunderous cheer erupted. Everyone, audience and musicians on stage, was beaming. It brought tears to my eyes, because I was so moved by the music, by the emotion in the sound and the energy, and simply by the power and the beauty. Because life can be so fulfilling and the moment so beautiful! Crazy, isn't it?
The second poignant moment was actually with Jacob Collier, who is of course an incredible musician, but who I had previously pegged as super-brain and intellectual. And a super-brain he definitely is, maybe superhuman in some ways, but he got me that way with his exuberant, infectious musicality and presence. The moment the space in front of the stage was cleared and the excited fans ran forward to celebrate, sing and dance was awesome!
With this in mind:
listen to music, make music, go to concerts and enjoy life and summer!
Amazing what fits into a millisecond –
Winter blues before spring / Milliseconds of doubts before spring
Hello dear readers!
Thank you for being here! Because of you I get into writing and sorting out my thoughts. And thank you for sending me so many beautiful poems for my research on the project "German poetry set to music". I was very happy about that!
In this letter these topics are waiting for you:
Thunderstorm of thoughts in a millisecond
Music tip against winter blues
Good dynamics between people
What fits into a millisecond
I have just come from the doctor. No, don't worry, nothing bad. Just a special checkup with a specialist I went to for the first time today.
Probably to distract me a bit from the examination and to make some small talk, he asked me: "And what do you do for a living? I am a singer.Then I lay there and a strobe-like hail of thoughts went off in my head, within the first millisecond I thought:
Sounds kind of cool too!
But wait! A singer? Really? Am I a singer right now? Can I call my profession that? Because of this whole Corona crisis, I actually see myself less as a singer, because a singer sings and makes money doing it. On stage. So seriously. And the audience is listening. There's definitely an audience there. Now I'm sure the doctor thinks I make a living from being on stage. That's not true at all. Is that just a wish I'm stubbornly holding on to? Isn't "singer" also a bit one-sided and simply wrong, if I consider what I de facto do professionally at the moment? But if I sing every day, maybe even when I'm teaching, then at least I'm singing out into the world. Being a singer doesn't mean having the most beautiful voice in the world and getting paid to sing. It has so many facets in addition….
Then he said: Oh, interesting! What does she sing?
I said: Jazz! Mostly. And he added: "But actually I'm not just a singer, I'm a musician!
He replied: Oh! What else do you do?
Me: Well, I write music, play piano, arrange and give lessons.
His short answer: Wow! That sounds great! But it must not be easy for you at the moment.
Exactly!
Actually, it's really pretty great! What a beautiful profession we musicians:inside have. It's pretty exciting and definitely what I love. What others may do as a hobby, secures sometimes better or as at the moment sometimes worse the livelihood and needs stamina.
How many colleagues have given up and looked for other jobs? It's really a tough test for our profession.
You can tell I'm a little pensive and brooding right now.
Anyway, my head hasn't exploded. Sure, my monkey mind was in top form again, but everything turned out fine. I then got on my bike and rode slowly through the city in the sunshine. That felt good!
Maybe it's the winter blues that got me. Maybe just vitamin D deficiency!
Music tip
And luckily, there is comfort in beautiful music.
Have a listen to my music tip for winter blues:
Joni Mitchell's "A Case Of You", in the version from the album "Both sides now" from 2000. Beautiful music, soundscapes to dive into and great arrangements by Vince Mendoza.
The whole album is a listening pleasure. In the liner notes to the CD, co-producer Larry Klein describes the album as "a programmatic suite documenting a relationship from initial flirtation through optimistic consummation to disillusionment and ironic despair, finally ending in a philosophical survey of acceptance and the likelihood of the cycle repeating itself."
Sometimes the melancholy envelops one almost comfortingly for a while, dismissing us quite peacefully and looking forward.
Back to normal?
Are you already returning to "normality", now that many regulations are loosening and gradually many things are possible again? But maybe the stress of the last 2 years hangs in your bones and a back-to-normal is not so easy? It is still difficult to find fair rules for the coexistence of vaccinated and unvaccinated people. I listen to both "camps" and am saddened by the division.
And then there is the news about the war in Ukraine, that the fronts are so hardened that no peaceful consensus seems to be found with diplomacy and talks. This is terrible!
The good dynamic between people
Are you already returning to "normality", now that many regulations are loosening and gradually many things are possible again? But maybe the stress of the last 2 years hangs in your bones and a back-to-normal is not so easy? It is still difficult to find fair rules for the coexistence of vaccinated and unvaccinated people. I listen to both "camps" and am saddened by the division.
I probably have too much time to worry about things right now because I'm at home way too much, because I hardly have any concerts and don't give any classes, because I don't travel and am not on the road, thus eliminating an important part of my job that I enjoy and that builds me up energetically. I miss the contact and exchange with real people, not online on the screen, but live and analog. The dynamic between people.
Now, evil tongues might say: after 2 years, one must have learned to use this time alternatively and to do work that has no place when things get back to normal.
Yes, but that takes a lot of energy in the long run. Everyone needs clear goals and motivation AND structures in which everything fits in, and these are concerts, moments on stage with an audience or in workshops. Hopefully they will come more often again soon!
I try bravely to keep my head above water!
Writing, singing, practicing, living, surviving….
Why am I doing this? It's the desire to express myself, to give shape to inner worlds and feelings, the desire to dive into the flow, into the stories, to get into the "space" where time and space dissolve. The fun to invent, to create, to refine, to uncover the essence like a sculptor – and to share the results, because maybe others will enjoy it, e.g. to be able to dive in, to gain distance, to relax or to be stimulated to think or just to feel!
In the liner notes, co-producer Larry Klein describes the album as "a programmatic suite documenting a relationship from initial flirtation through optimistic consummation, metamorphosing into disillusionment, ironic despair, and finally resolving in the philosophical overview of acceptance and the probability of the cycle repeating itself."
Let's all keep our heads above water and not sink and listen to good music in between, for example "Both sides now".
It's melancholic and beautiful at the same time.
And soon it will be spring! Then everything will be better!
February 2022